Pulte Homes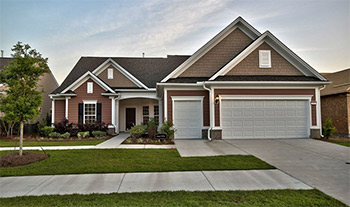 Looking for the perfect home? One with premium amenities? In a prime Lowcountry location? At a great price? No problem. Baynard Park in Bluffton, South Carolina, is your kind of place.
This gorgeous gated community not only epitomizes affordable, livable luxury but also exemplifies the quality people expect from Pulte Homes. It is no wonder Pulte Homes ranks as the number one company in its industry in FORTUNE Magazine's list of "America's Most Admired Companies." Nor is it a surprise that Centex delivered more than 39,000 homes in the fiscal year that ended March 31, 2006. The company has been perfecting this perfect-home thing since its inception in 1950.
According to Joy Dozier, the operational marketing manager for the Hilton Head/Savannah division of the company, "Befitting Baynard Park's generous home sites is an enhanced selection of spacious homes from Pulte Homes' Coastal Collection."
She explains that the Coastal Collection offers homes from 2,059- square feet to 3,380-square feet. Each plan offers three options for exterior features, including Hardiplank siding, brick or stucco. Centex Homes includes several standard features that make each home a happy hub for family and friends to enjoy.
Featuring smooth ceilings throughout, as well as chair railing in the dining room and breakfast room and crown molding in the foyer, dining room, great room, living room and kitchen, each house includes small details that make a big difference. In addition, each plan includes a detached stucco wing wall at the entrance of the garage and decorative brick pavers at the opening of the driveway.
Equally enticing, each kitchen comes standard with Corian counter tops and Whirlpool appliances. The cabinets, 42 inches of raised oak panel with crown molding, complement other elements of the interior. As an added bonus, all Centex Homes come with a two-year Fit & Finish Warranty as well as a 10-year limited structural warranty.
Even still, perhaps the greatest guarantee about Baynard Park is its convenient location. Adjacent to the proposed Okatie Regional Park in Buckwater, Baynard Park is a short drive from Hilton Head Island and the historic coastal sites of Beaufort and Savannah. Dozier points out that Baynard Park is conveniently located off Hampton Parkway, which connects Highway 278 and the future Bluffton Parkway.
However, there is little reason to want to leave this little slice of Southeastern heaven. Baynard Park's country club-style amenities center includes tennis courts, fitness center, basketball courts, playground, swimming pool and walking trail. In addition, the neighborhood park, Pleasant Point, provides a lovely landscaped picnic area complete with a fire pit.
This is an archived article that is updated infrequently. Some of the information you may find is still accurate, but figures like prices and population numbers could be out-of-date. If you are particularly interested in seeing this page updated please drop us a note.