Pulte Homes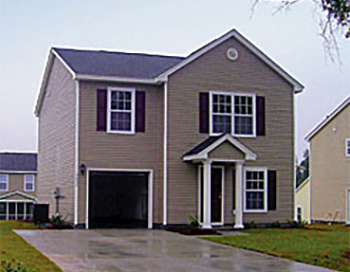 The American Dream: Finding The Way Home
My family and I have achieved the American dream: We finally own our first home.
My husband Dana and I started looking at pre-owned homes in the Windsor Hill community in North Charleston last August. We attended a first-time home buyer's seminar, and we were pre-approved for a mortgage.
But finding the right home for our family was challenging. We never really considered building a home because we did not own property. After several months of looking, we decided to put our dream on hold, but we never gave up hope that we would someday move into a home of our own.
The Woodlands, a Pulte Homes community with a golf course, great family amenities and is located in an excellent school district…
We temporarily stopped looking for a home, but we continued planning for the day when we would achieve what once seemed to be an impossible dream. We paid off our excess debts and eventually decided that the time was right to start searching again. Dana scanned the online databases each night, we contacted our previous lender and we hired a real estate agent to assist us. We looked at several pre-owned homes in Wescott Plantation before Dana discovered The Woodlands, a Pulte Homes (formerly Centex Homes) community that presented the opportunity to build a new house large enough for our family.
The community has a golf course and great family amenities and is located in an excellent school district, so we decided to go for it. We felt at home the moment we entered the Centex Homes office, where the sales representative treated us royally, explained the process of building a home and provided information on floor plans and pricing. CTX Mortgage Company, Centex's preferred lender, offered great rates and assistance with closing costs. Within a couple of days, we were pre-approved and ready to choose our lot, floor plan and options. Some of the extras we included are a study, all black appliances and double parking. We plan to add a patio to the rear exterior in a few months, with the approval of the homeowners' association, of course.
Building our home could not have been easier. The people at Centex were always at our disposal and never left a question unanswered. They returned every phone call and always spoke with a smile. We were even able to follow the building stages and the loan process on the company's exclusive Web site for new homeowners. Our field manager called every Monday with updates and to outline the next steps. He made sure that we attended every walk-through and gave us a wealth of information on our new home.
Most importantly, they played an important role in helping us attain the American dream.
This is an archived article that is updated infrequently. Some of the information you may find is still accurate, but figures like prices and population numbers could be out-of-date. If you are particularly interested in seeing this page updated please drop us a note.