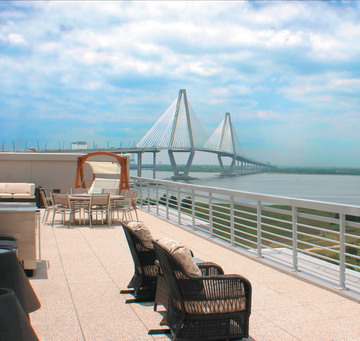 Lighthouses have always been the guiding light for ships entering Carolina harbors, and, although they still serve that purpose, their ranks are being joined by a new kind of harbor light – magnificent waterside condominiums. Charleston's skyline is still restrained, but here and there on the harbor are tall buildings which are themselves landmarks.
The Renaissance on Charleston Harbor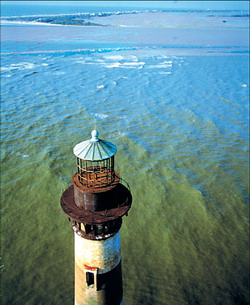 The Renaissance on Charleston Harbor really needs no street address – its two imposing eight-story buildings rise above and are clearly visible from the Ravenel Bridge, a sparkling new span connecting Mount Pleasant to Charleston. Just arriving at the lushly landscaped entrance is enough to elevate your mood, and a glimpse of the pool overlooking the harbor is just a small taste of the luxury that awaits you inside.
The lobby is warm and understated and the elevator glides smoothly to an upper floor, to a condominium that is the epitome of elegance. Kathy Sweet, a Realtor with Carolina One Real Estate, promised a breathtaking home, inside and out, and she has delivered. It is the residence of George Sink, a prominent Charleston attorney, and his wife, Jeannette. The Sinks are not at home but a friendly face peeks around a corner. Our host is a delightful white cat named Jack who guides us through as though he owns the place. Maybe he does.
"The Sinks moved here in March of 2007," says Sweet. "They had a place at Kiawah and a smaller three-bedroom in this building. They enjoyed it so much they decided to live here full-time."
It's easy to see why. The Sink condo is spacious – a little more than 4,000 square feet – light and airy. The look is modern mingled with traditional, elegant with touches of whimsy almost everywhere you look. Sweet says Jeannette Sink did the interior design herself, and her taste runs to clean, simple lines and circles.
Sweet points out the circle motif that recurs here and there throughout the Sink home – in round mirrors, graphic prints, the twin sofas in the living room and even in the unusual stained-glass entry door. In addition to the spacious living and dining areas and the adjoining kitchen, which is large and has the look of stainless steel throughout – even the cabinets – there is a large master bedroom suite, a guest room, and a home office, a third bedroom that functions as an exercise room. Because of the extraordinary views, Mrs. Sink took full advantage of the balcony, creating a comfortable outdoor room.
Although the Sinks look like they're here to stay, their smaller three-bedroom condo is available, as are several other units in the two buildings.
The Fort Sumter House
The official address is 1 King Street, but longtime Charleston residents know it as The Fort Sumter House. Originally built as a hotel in 1923, for the amazing sum of $850,000, it was considered one of the city's most upscale lodgings, with its incredible views of The Battery and White Point Gardens. It's in one of the city's most historic areas and is actually mentioned on the Charleston Harbor Boat Tour as a point of interest. A many-armed sign out front during the hotel era pointed toward New York, Quebec and the North Pole, as well as in the opposite direction, to Key West, Miami and the South Pole and was itself a tourist attraction and the site of many photo ops.
The Fort Sumter Hotel was converted to condos and office space in 1974 and today is one of Charleston's most desirable addresses. There are several condos currently on the market, ranging from about $500,000 up to the most sumptuous one of all, priced at a whopping $2.85 million. That price is not for the faint of heart – but it is a rare find in a city where treasures lurk around every corner. Number 108 at 1 King Street once housed the Grand Ballroom and the Rampart Room restaurant and lounge. The original terrazzo floors, huge windows and 15-foot ceilings are reminders of the past, but the condo is thoroughly modern.
The main floor consists of a living area that is grand in scale and takes advantage of every view. The kitchen is a gourmet cook's dream, with not one but two Viking ranges with a food warmer, hidden microwave and Sub-zero refrigerator/freezer. A walk-in butler's pantry rounds out the professional kitchen. The master bedroom is a study in luxury. It is possible to open (and close, for perfect privacy) the shades remotely to enjoy stunning views without leaving your bed. The master suite includes a roomy bathroom and a room-sized closet.
Upstairs is an informal sitting area which overlooks the downstairs as well the Battery, office area and two additional bedrooms, each with its own bath. This conversion was completed in 2006 and the quality of construction is second to none.
The ultimate address at 1 King Street is Number 108, where 4,000 square feet of elegance blends with Charleston legends to create a most extraordinary residence.
Tides Condominiums
On the other side of the Cooper River, in burgeoning Mount Pleasant, is Tides, which has little obvious connection to Charleston Harbor's past but will no doubt be a pivotal piece of its future. When the 121 condos in Tides' three buildings hit the market in 2004, its developers, Coen Capital LLC of Mount Pleasant and David Sidbury of Charlotte, promised to make Tides the premier luxury condominium on Charleston Harbor, and few can argue that they have not followed through.
Built at the base of the Ravenel Bridge, Tides offers its residents a striking combination of location, amenities, security, quality construction and investment value. And, of course, there's the magnificent views of the bridge, the skyline of the Holy City and the harbor that separates historical Charleston from fast-growing Mount Pleasant. Tides will soon cast its shadow on the city's new waterfront park, which will include a 1,250-foot fishing pier and serve as a venue for a variety of outdoor activities. Tides residents who for some reason tire of admiring the water views from inside their condos or from their balconies are not far from downtown Charleston and the beaches at Isle of Palms and Sullivan's Island. They can even walk or cycle across the bridge or to nearby Patriots Point, home of the Congressional Medal of Honor Museum and a wide variety of other educational and recreational possibilities.
It didn't take long for potential buyers to take to Tides. According to David Hodson of Properties of the Carolinas Group, Building 1, which is closest to the water, sold out in less than a day, at an average sales price of $1.2 million. In fact, Hodson, whose company sold more than 90 of the 121 units, and his wife Judy bought one for themselves, making a third-floor condo their permanent home in September 2007, just a few months after Building 1 was completed.
Though the water views are magnificent, Hodson is especially appreciative of the building's quality construction. He has neighbors, but he says he never hears them because Tides was constructed with suspended ceilings and dual wall systems to enhance soundproofing. And though he has the option of walking out on his balcony to gaze at the bridge and the harbor, if he remains inside, he experiences only the scenes and not the sound.
"I can watch the trucks go by across the bridge, but I can't hear the noise," Hodson comments. He adds that the buildings, sitting on concrete pilings buried more than 60 feet in the ground, were built to stand up against wind, moisture and even hurricanes.
Built to survive violent weather, Tides also has survived the ups and downs of the real estate market. For example, according to Hodson, a penthouse unit that sold for $1.6 million in October 2007 was sold again in February 2008 for $2.2 million.
"Tides has delivered everything that was promised when pre-sales were announced in 2004," he says. "It truly is the premier luxury condo project on Charleston Harbor."
Randy and Kathy Bates have called several places in the Charleston area home, but each time they have packed up and moved on, they've settled in at an address with two important qualifications: It has to be a condominium and it must be on the water.
Originally from Cherryville, North Carolina, the Bates' moved to Charleston roughly 11 years ago from the Charlotte area. They own a condo in the Fort Sumter House downtown, which they gutted, totally renovated and occupied for a while, and they have another on the Isle of Palms that serves as a vacation location for them, their children and their grandchildren. In December 2007, they moved into one of the penthouse units at Tides, a three-building complex on the Mount Pleasant side of Charleston Harbor, in the shadow of the Arthur Ravenel Jr. Bridge.
"We like the people in Charleston, and this area has a little of everything: medical universities, beaches and history. All we want is right here. We don't have to go anywhere else," Randy explains.
"We enjoy living on the water," Randy, who is in the real estate investment business, adds. "We like the atmosphere and the view. We like to watch the boats and the cruise ships go by. Our condo downtown is in a great location, but Tides is also a great location."
He adds that he and Kathy decided to move simply because they wanted a change of pace, a chance to look at beautiful Charleston Harbor from a different perspective. They decided long ago that their view would always come from inside a condominium.
"We really enjoy condo living," he comments. "I guess it's the convenience. We just don't need the headaches of home ownership. There's always something going on with a home."
And, if you live in a condo on the water in the Charleston area, there's always something interesting passing by your window
This is an archived article that is updated infrequently. Some of the information you may find is still accurate, but figures like prices and population numbers could be out-of-date. If you are particularly interested in seeing this page updated please drop us a note.