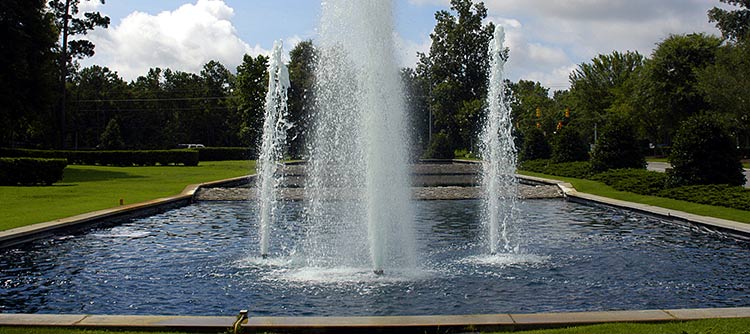 More than a Decade has passed since a pair of Prescient South Carolina residential-community developers produced a grand visionary plan to build a town within a town on the northern edge of Mount Pleasant, one of South Carolina's fastest-growing cities. They envisioned a varied collection of neighborhoods, family-lifestyle amenities, retail establishments, schools and professional office space aimed at offering residents most of the necessities of life without having to venture out onto or beyond busy Highway 17.
Today, with Mount Pleasant spreading inexorably to the north and Highway 17 carrying more traffic than ever, their dream has become reality. Nearly 6,000 people now call Park West home, and its population eventually will approach 10,000. Park West currently consists of 28 distinct, thriving neighborhoods, and construction is underway on its 29th, Park Island, an exclusive, secluded community with an approved master dock corridor plan in place, separated from the rest of the "town" by a 1,440-foot-long bridge.
According to Bill Bobo, co-founder and co-principal of Columbia-based LandTech, the developer of Park West, the key to its success is its focus on families and choices.
"We set out to design a community that was all about choices and family lifestyle," he says. "First we donated 100 acres of land to the Charleston County School District for an on-site educational campus and 59 acres to the town of Mount Pleasant for a multipurpose recreational park. Just to let everyone know that we were serious about the future of Park West, we jump-started the development by building a majestic entranceway, complete with six reflective ponds, cascading fountains and flora worthy of a royal garden. It's been a tremendous success story ever since."
Bobo explains that he and his partner, Pat Tomlin, were working in Charleston in the mid-1990s when Georgia Pacific decided to leave the real estate development business. When the 1,700-acre parcel that is now Park West was made available in 1996, "We hopped on it." They started developing Park West in 1997, and the first houses rose in 1998 in Churchill Park, Park West's initial neighborhood.
Nine years later, Park West residents live in neighborhoods of single-family homes, town homes, patio homes and condominiums in a wide variety of sizes, styles and price ranges, from around $260,000 to more than $3 million. Many families start out in the less-expensive neighborhoods and eventually upgrade to larger homes in other sections of Park West, according to Park West Real Estate Sales Manager Kirby Baker.
"Lots of young families move here for the schools," Baker says. "As the families grow, they want to stay in Park West, so they simply move to a bigger house in another neighborhood."
In many cases, LandTech sold entire neighborhoods to builders, which, in turn, marketed homes to potential buyers. However, the company ensured the family-oriented nature of Park West by donating land to the town of Mount Pleasant for a recreational complex that now offers swimming as well as softball, baseball, football and soccer fields and to the Charleston County School District, for the construction of Laurel Hill Primary School, Charles Pinckney Elementary and Thomas C. Cario Middle School. Although it's not in Park West, Wando High School, which opened in 2004, is located next door, and a road connecting Park West to the Wando campus is now under construction.
Though Park West is zoned for as many as 5,281 homes, fewer than 4,000 will be built, according to Jules Deas Jr., broker-in-charge with Park West Realty. Rather than selling as many lots as possible, Park West's developers chose to build parks, sidewalks and six miles of biking and jogging trails. In many areas of the community, they decided to let Mother Nature have her way – the community includes 550 acres of saltwater marsh and fresh-water wetlands that will forever remain untouched by man or machine.
In addition to the bounty of nature, Park West residents enjoy the convenience of having a wide array of retail businesses and professionals nearby, including a large Publix grocery store, restaurants, boutiques, doctors, dentists, attorneys, veterinarians, a bank, a fitness center and a child-care facility. The amenity center features a community clubhouse, swim and tennis club, volleyball court, summer kitchen and playground.
"Park West is like a small town," Deas says. "Kids can walk or bike to school without worrying about a busy highway. It's a fully contained community, with schools, shopping, restaurants, doctors' offices and just about everything you need." He adds that an assisted-care facility is under construction inside Park West and that Roper St. Francis Healthcare is building a new hospital just north of the community. Before long, his claim that "You can be born here and die here" will be more a statement of fact than a marketing slogan. Park West's small-town atmosphere will be enhanced when work is completed on Cambridge Square, a nostalgic combination of town homes, condominiums, lofts, parks, playgrounds, specialty shops, restaurants, office space and a state-of-the-art parking deck on a 35-acre tract near the center of the community.
Meanwhile, not far from the center of Park West but five miles from bustling Highway 17, tranquil Park Island has taken shape. Work initially was delayed by a court case concerning the permit to construct the bridge that connects the island to the rest of the community, but work on the 14-month project was completed in May 2007. A grand opening was held at the end of May.
"Had it not been for the regulatory process that, in this case, Swimming is just one of the many activities available to Park West residents. included a lengthy legal process, we might have started work on Park Island when the mainland was about 75 percent complete, but our vision always included Park Island as the capstone of our master plan," according to Bobo. "Looking back, it is fitting that Park Island be essentially the finishing touch to the Park West landscape. It is Park West's only gated, private community and certainly the only community surrounded by water and saltwater marsh, where each home will enjoy access to either the Wando River or Toomer Creek."
A few home sites were pre-sold, and the first homes on the island are expected to be completed in the spring or summer of 2008, according to Baker.
"The views on Park Island are absolutely breathtaking, whether you're on the marsh, the river or the creek," Deas says. "From some home sites, you can see water in every direction. And as secluded as it is out there, you're only 10 minutes from a major grocery store."
Regardless of where you are in Park West, you're within walking or biking distance of shopping and a variety of other necessary services. If you choose to drive, you'll reach your destination without passing a traffic light or a stop sign; traffic is controlled completely and efficiently with roundabouts. "When you can get 75 percent or more of the things a family needs, such as schools, shopping, daycare and the dentist, without ever having to get out on Highway 17, why in the world would you want to live anywhere but Park West?" Bobo asks.
This is an archived article that is updated infrequently. Some of the information you may find is still accurate, but figures like prices and population numbers could be out-of-date. If you are particularly interested in seeing this page updated please drop us a note.