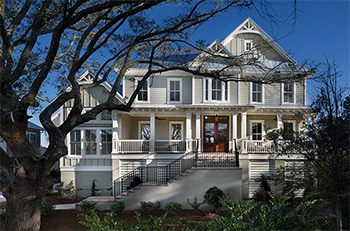 Chuck Lattif, local owner of Arthur Rutenberg Homes, knew his future in custom home building lay in the Lowcountry. "What you gain from associating yourself with someone as respected as Art Rutenberg is you know that a great deal of thought has gone into the evolution of the franchise," he explained. "The history makes a big difference."
Until last year, Lattif lived in the Northeast, where his work on the national custom home building level had earned him awards such as Best Custom Home under 6,000 square feet by the Main Line Builder's Association, as well as industry-wide respect – he was appointed chairman of the Historical Architectural Review Board in Lower Merion Township in Pennsylvania. He fostered a lifelong passion for custom home building by kicking off his career working for three of the largest home building companies in the country – NVR, Weyerhaeuser and Pulte – before starting his own company.
After learning of the opportunity to become a part of the Arthur Rutenberg family – and being wooed by the Charleston area during subsequent visits – Lattif began his latest venture.
"Art's been in the business for over 60 years and still works five days a week, and he's still an inspiration to how we look at housing and trends," he said of the company's namesake and founder, whom he calls a "terrific individual."
In keeping with the company's commitment to convenience for homeowners, the process of incorporating local design is streamlined, state-of-the-art and offers impressive savings of both budget and time. "What we like to do is understand their needs – what is it about their current home that they don't like? – and design a home to their specifications, lifestyle and dreams" explained Lattif.
Get more information about new homes in the Coastal Carolinas online or call Arthur Rutenberg Homes tolll-free at 1-800-ARHOMES (800-274-6637).