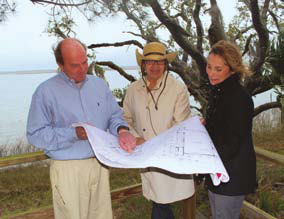 Family is the most important factor in most decisions Herb and Sheran Wilkins make. So when they came to the conclusion their vacation home on Kiawah Island wasn't quite large enough to accommodate their ever-growing troop of grandchildren, they started looking for a larger home.
After realizing that houses with the necessary number of bedrooms were difficult to find on Kiawah, they redirected their search to a familiar destination. As spring 2011 burst into full bloom on the island, Buffington Homes, which built the Wilkins' current house six years ago, was preparing to build them another, this one an innovative compound of four distinct but mostly connected structures within easy walking distance of the Kiawah River.
"There aren't many resales with more than six bedrooms, so we decided that rather than update, we might as well start from scratch," Sheran Wilkins explained. "I don't mind. I'll have fun doing it."
She pointed out, however, that she will have more fun once the home is completed, probably in about 16 months, because "the whole thing is about family." The Wilkins' have seven grandchildren, five boys and two girls, six of them 4 years old and younger.
Their son lives in Baltimore, as does one of their daughters, while their youngest is currently at Camp Lejeune, N.C. Her husband is serving with the U.S. Marine Corps in Afghanistan.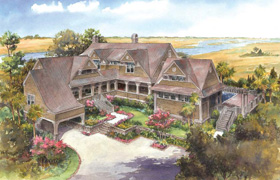 Herb and Sheran, whose main residence is in Ellicott City, Md., near Baltimore, also have a condominium in Martha's Vineyard, Mass., and a home in Bethany Beach, a small seaside town in southeastern Delaware. But when the whole family takes vacation time, more often than not, the destination is Kiawah Island, S.C.
Herb Wilkins was a major player in the venture capital business and was the co-founder and first president and chief executive officer of SCI Ventures. He also founded the SYNCOM Funds group and later helped rescue the satellite communications giant Iridium from bankruptcy. A few years ago, however, he suffered a stroke, and his nurse now travels with the family, as does Sheran's mother, which explains why nine is an appropriate number of bedrooms when the entire family gets together.
Herb and Sheran got their first taste of Kiawah Island more than a quarter of a century ago, when they visited to attend a business conference. They stayed an extra day, found a vacation home they liked on Inlet Cove, purchased it and started a family tradition of vacationing on Kiawah.
"Inlet Cove was a good community for kids," Sheran commented. "We used to come here during the summer until our youngest daughter reached middle school age."
As the family grew, the Wilkins' moved into larger and larger vacation homes. Buffington Homes, which has been building high-end homes in Kiawah and Charleston for 14 years and has earned a wide range of regional and national awards, built their fourth and current 6,000-square-foot, seven- bedroom home on Bufflehead Drive.
"A lot of people came to Kiawah 30 years ago, and they still live in the same house," Vice President of Sales and Marketing Cathy Buffington commented. "This will be their fifth house on Kiawah. That might be some kind of a record."
The Wilkins' new home is located on Salthouse Lane, a cul-de-sac, in the area of Kiawah known as The Settlement. To reach the neighborhood, homeowners and visitors must pass through three gates. The home will offer its occupants views of the Kiawah River that change with the tides. Though the lot has its own dock, the house is far enough from the river to be a safe haven for seven spirited grandchildren.
"We looked at other lots, but this one seemed to be the best for us," Sheran said. "We had to take the grandkids into consideration. We didn't want them to escape before we could get to them."
Herb added that he also appreciates the peaceful river views and the privacy the lot offers.
The idea of making the home four separate structures instead of one huge house was the brainchild of architect Zach Carney.
"This is a fun house to build," Carney commented. "The clients have been great, and they've been open to different ideas."
The nine-bedroom, nine-bathroom home includes two elevators, one of them accessible from the garage, which is one of the four separate buildings. The master and two other bedrooms are located on the first floor of the main house, while four other bedrooms, an office and a media room that can double as a bunk room if the family continues to grow are on the second floor. The eighth and ninth bedrooms and a kitchen are in a guesthouse situated on the other side of an ancient, sprawling oak tree.
A fourth structure, also connected to the main house, includes the pool and a huge screened summer porch, complete with a kitchen, a living and dining area, a bath and changing room and storage for outdoor furniture. An unusual feature of the home is that it also has a winter porch with a fireplace, a hot tub and a living and dining area.
While the two large porches provide the opportunity for outdoor living, the house will be built to bring the outside inside. The views of the river and the surrounding flora and the massive oak will be enhanced by huge 6-foot by 6-foot windows with transoms in the living room, master bedroom and master bath, as well as by an airy, open floor plan.
Among the challenges Carney faced in designing the house were making at least part of it handicapped-accessible to meet Herb's needs and building a home large enough for the Wilkins family but understated enough to blend in with what Nature has bestowed upon Kiawah. He also included gates in the plans to make it more difficult for the kids to wander off on their own.
The Wilkins family appreciates the beauty of the island, and, for the past quarter century, they have been grateful for its serenity. When her husband was more active in the business world, Sheran traveled with him. Kiawah has served as a restful haven for them, a place they could go to get away, unwind and simply relax. Sheran said the family hopes to spend three months on Kiawah from now on, from January through March.
"It's always peaceful here," she said. "We don't like crowds. It's a good sanctuary for us. We like to come here and not be bothered."
Buffington Homes
Charleston's Premier Builder!
3690 Betsy Kerrison Parkway, Suite 2-D
Johns Island, SC 29455
(843) 768 8525
[email protected]
http://BuffingtonHomes.com