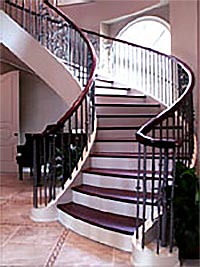 What makes Port City Staircase a leader in the sale of stairs and stair parts in Coastal Carolina?
The company has been able to skillfully combine the tradition of fine craftsmanship with the latest in modern technology, in the process building a reputation for quality and reliability along the Carolina Coast, from Wilmington, N.C., to Charleston, S.C. Utilizing Computer Numeric Controlled (CNC) routers and Computer Aided Design (CAD), Port City easily solves one of the most difficult problems associated with building a quality home. After all, the staircase is the centerpiece of a fine home.
In addition to the quality they know they will get, builders like the convenience of dealing with Port City. The company's trained and experienced workers come to the house to take the appropriate measurements. They build the stairs off-site, then return to install them. The entire job takes four to five hours.
Port City offers a wide variety of styles, from designs that reflect the delicate to those that speak of the stalwart. Home buyers have many choices. For example, the graceful New Bern recalls the 17th and 18th centuries, while elegant 19th century classic and contemporary designs are also available. In addition, Port City offers wrought iron rails.
Port City Staircase, which is known throughout Coastal Carolina for its stairs, stair parts and handrails, was launched in Wilmington four years ago and since has expanded to Raleigh and south to Myrtle Beach and Charleston.
Prices begin at $500 and end at the outer limits of the customer's imagination. Port City can produce a staircase to fit any budget.
If you are looking for the perfect custom-built staircase for your home, consider letting Port City Staircase design and build it to suit your needs and your budget.