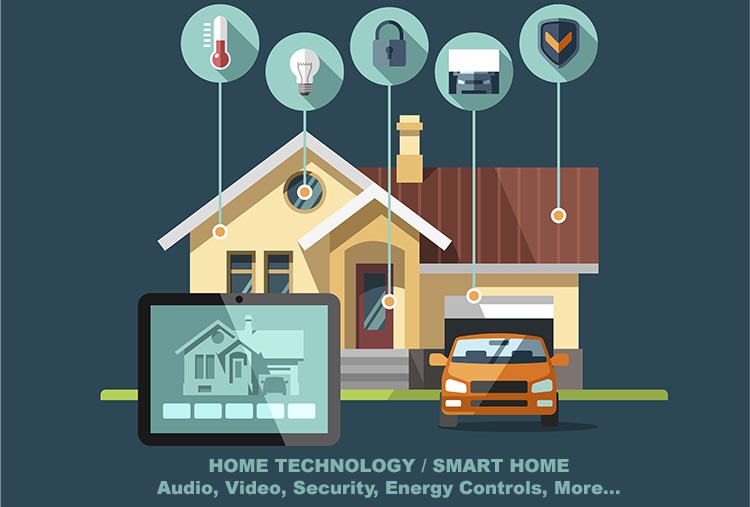 Are you interested in building a media room in your home and turn it into a Smart Home? Maybe you would like to upgrade your home communications network or wire your whole house for sound or lighting control. As the popularity of high-tech electronic systems and multi-room controls for the home grows nationwide, most homeowners don't know where to begin such a project or even what is available. But help is just a mouse click away at www.cedia.org.
The Custom Electronic Design & Installation Association, or CEDIA, is a global trade association of companies that specialize in planning and installing electronic systems, thereby turning your home into a smart home. These systems include home networking, environmental controls, home automation and communication systems, media rooms, single or multi-room entertainment systems, motorized window treatments and integrated whole-house subsystems providing control of lighting, security and heating and air conditioning systems. The association, which is headquartered in Indianapolis, was founded in 1989 and currently has a total membership of approximately 3,500 companies.
According to founding member Russ Pritchard, CEDIA emerged as a result of the rapidly changing electronics industry.
"When we opened in 1984, we sold car and home audio systems," said Pritchard, who is president of the Audio Warehouse. "At the time, if you wanted to buy a new TV, you typically went to a department or appliance store."
Pritchard explained that after the introduction of the CD, another significant change occurred – the marriage of audio and video.
"Suddenly people realized that if they put their TV and stereo system together they could have much better quality audio than what a TV alone can produce," he said.
With that marriage, the electronics industry began growing by leaps and bounds. Companies such as the Audio Warehouse had to adapt from selling and installing audio equipment to becoming a full-scale electronics system integrator. They did it with the help of CEDIA.
"We changed from a business where typically the customers came to us to a business where we started going out running wires in homes or actually working in a home during its construction so it could be a smart home," said Pritchard. "CEDIA was really the first organization that recognized that the electronics industry was merging with the construction industry."
Neadom Tucker, president of TMI Innovations Inc., and his business partners, Allan de la Cruz and Charlie Feathers, agree that consumers are still discovering how technology in their homes can change their lives for the better. Conveniences such as environmental controls, lighting control and multi-room controls keep all rooms of the home working in sync.
"At IntelliHome, a division of TMI Innovations, we are able to take the same custom electronic systems technology once primarily used in the commercial market to the residential market," Tucker stated. "If you want a state-of-the-art audio/video system in your house, we can do that. We can also put your whole house on the Internet so you can monitor your children when they get home from school. We can even put a system in place where you can turn on your sprinklers or turn down your heating and air conditioning from your office computer or laptop. The technology that's available is really amazing."
Amazing and constantly changing. CEDIA members such as the Audio Warehouse and TMI Innovations are established, insured businesses with bona fide qualifications and experience in this specialized field. Member classifications include designer/installers, manufacturers, sales representatives, distributors, consultants and affiliates.
"When you use a CEDIA-certified installer, you know you've got someone qualified to do the job," Tucker continued. "Through our CEDIA membership, we can stay abreast of the latest technologies through their expos, Web site, newsletter and information sharing that goes on among its members."
Consumers can obtain referrals through CEDIA to find qualified design and installation contractors to counsel them and work in their homes by visiting the CEDIA Web site. Consumers also benefit by having CEDIA promote professionalism and honorable business practices in the field of custom installation.