Ashton Woods, an award-winning national private homebuilder, has opened its newest model home in Freeman's Point, a waterfront community of 120 homes on James Island. The home, referred to as the Summerside model,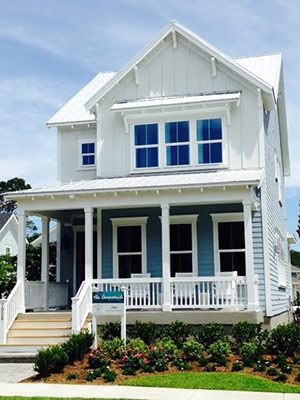 has been designed to reflect a distinctly Lowcountry lifestyle paired with the inspiring designs for which Ashton Woods is known.
The open layout of the home is perfectly suited for entertaining with a kitchen island that overlooks both the dining and family rooms. The cabinetry in the kitchen features Ashton Woods' signature window cabinets that allow for more natural light. The focal point of the family room is the fireplace with brick surround, and the family room also has an abundance of natural light coming from the many windows in the room. The Summerside model features a first floor master suite with a rustic barn door leading to the master bath, which includes a beautiful tile shower and dual vanities.
Upstairs includes a huge loft area as well as two additional bedrooms, each with a large walk-in closet. The loft area can be used as a home office, an exercise room or even a children's play area.
"We're excited to be a part of the Freeman's Point neighborhood and continue to build upon Ashton Woods' reputation for excellence to the Charleston area. The opening of the model home gives interested home buyers the perfect opportunity to view firsthand the unique community, innovative designs and upscale finishes available at Freeman's Point," said Ryan Lewis, Division President at Ashton Woods. Currently, Ashton Woods has two homes available for immediate move-in in Freeman's Point. Priced from the low $400s, these homes showcase the Broadwater home design with four bedrooms and three-and-a-half bathrooms and the Chatham home design with three bedrooms and two-and-a-half bathrooms.
Freeman's Point offers a lifestyle that all can enjoy, ranging from relaxed and slow-paced to active and on-the-go. It features more than 1000 linear feet of waterfront park as well as a neighborhood pool and pavilion, community boat ramp and dock, a playground and a walking trail. Additionally, a wide variety of dining, shopping and entertainment options are located nearby with downtown Charleston and Folly Beach just a short drive away.
About Ashton Woods
Ashton Woods is one of the nation's largest private homebuilding companies, blazing new trails in design and personalization to build homes as unique as the people who live in them. Collaborating with homeowners for over 25 years, the company and its team of world-renowned designers look beyond the conventional to draw inspiration from unexpected sources, resulting in exceptional design in every Ashton Woods home. Recognized as the 2013 & 2014 Most Trusted Builder in America SM by the Lifestory Research Most Trusted Builder in America Study SM, Ashton Woods' collaborative approach is a key driver of its best-in-class customer satisfaction scores. For more information, or to experience the excitement of becoming another satisfied Ashton Woods homeowner, visit www.ashtonwoods.com.
This is an archived article that is updated infrequently. Some of the information you may find is still accurate, but figures like prices and population numbers could be out-of-date. If you are particularly interested in seeing this page updated please drop us a note.